Recurring Batch Transactions
How to set up recurring entries

This guide will go through the steps to set up recurring entries and the frequency in which they will appear. You can set a transaction to recur on the following frequencies:

Weekly

Two Weekly

Monthly

Quarterly

Half Yearly

Annually

To begin, you can start the batch through Sales, Purchases or Banking with the Batch Transactions menu.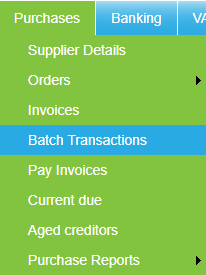 When you are in the batch, set the 'Type' to whatever kind of transaction you wish to set up as a recurring entry.


Then from the 'Frequency' drop down menu, specify how often you want the transaction to recur.


Now fill in all the details of the transaction, customer/supplier/nominal, date, reference, Net Amount, VAT code etc.


Now when you save this transaction, the first entry will appear at the bottom ready to be posted, I set my example as the 20th of February to being on a monthly basis. You then click on 'Post Transaction' when you are ready to post the first one.

After it has posted, you will see the line changes the date to the next date it is due, in my example it now shows the 20th of March, so it will wait here until the following month when I am ready to post it. If needed I can click on 'Select' and edit any of the fields if any changes are required. Clicking on 'Delete' will delete the next entry and stop the recurring batch from coming up.

---

---
Related Articles

Consolidating Companies

How to consolidate multiple companies into one for financial reporting Click [Here] to download this guide as a PDF file. This guide will go through the steps to consolidate 2 or more companies into one, so the financial reports will represent all ...

Paying and allocating invoices

How to process payments/receipts and allocate them to invoices [Click Here] to download this guide as a PDF file This guide will cover how to create and process payments or receipts and match them off to your invoices, this is for customer and ...